Overview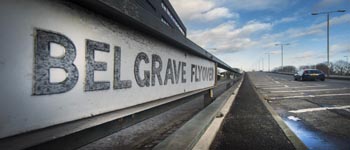 Belgrave Road flyover is located at Belgrave Circle roundabout at the start of Belgrave Road.
The flyover connects Belgrave Road and Belgrave Gate, crossing the Belgrave Circle roundabout north to south. Abbey Park Road and Dysart Way are also accessed from the roundabout east to west.
The full scheme involves the demolition of Belgrave flyover, changes and improvements to Belgrave Circle highway arrangements and infrastructure and the creation of a new 78 space car park for shoppers.
The demolition of the flyover is the first phase of the project and the work is being carried out by Sainbsury's contractors, Longcross Construction and AR Demolition.
We would like the public's opinion on which demolition method to choose.
Why your views matter
There are two options for demolishing the flyover.
Both options involve road closures, traffic diversions and works up until midnight.
The short option favours getting the work done more quickly, but with a more significant impact on traffic, whereas the long option favours minimising traffic impact but requires noisy work up to midnight every day for the duration of the works.
The short programme option proposes to demolish the flyover in three large sections over a total period of nine weeks (two months).
The long programme option proposes to demolish the flyover in 10 individual sections in sequence over a period of 14 weeks (3½ months).
What happens next
Once all the responses have been collected and read through, a decision will be made on whether to choose option one or two.
The result will be communicated at a public meeting on Friday 31 January at Belgrave Neighbourhood Centre and will also be available on the Leicester City Council website and communicated through local press.
There will also be a display at Belgrave with more information and a chance to ask questions.